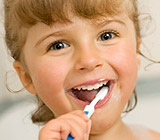 A habit can be defined as a recurrent, mostly unconscious pattern of behavior that is acquired through frequent repetition. However, there is much more to a habit than meets the eye. A major influence on children's positive behaviors and habits are those in their environment, namely parents, siblings and peers.
Luckily, proper oral hygiene is actually one of the easier habits to instill in children. Beginning when children are toddlers and continuing into their teenage years, you can influence them to institute lifetime oral healthcare habits.
Here are a few tips to get you started:
Toddlers:
Teach your Children How to Brush Properly. Starting at age two, when there are more teeth in your child's mouth, you should help your child establish a brushing routine. For toddlers, use a child's size soft toothbrush with water and a pea-sized amount of fluoride toothpaste. Children should be helped with brushing until at least age the age of six, at which point they will have developed enough dexterity.
Encourage your Children to Stop Sucking Thumbs and Pacifiers by Age Three. Most children drop this habit on their own between the ages of two and four. However, problems can occur when sucking habits are allowed to go on too long, including jaw development issues and buck teeth. If you are having problems helping your child to modify his or her sucking habits, we are happy to offer you some advice and creative strategies.
Set an Example of Healthy Eating Habits. A diet rich in sugar encourages the growth of acidogenic (acid-producing) bacteria, which cause tooth decay. Always choose water over sugary beverages, and encourage your children to do the same. When it comes to sweets, avoid sugary snacks between meals, and instead, snack on better options like fruits, vegetables and wheat crackers. Remember, if your children see you making these healthy decisions from an early age, they are likely to mimic your behaviors.
Pre-Teens and Teenagers:
Get your Children Professional Custom-Fitted Mouthguards. These devices not only protect your children's teeth, but also the jawbones, jaw joints and soft tissues of the lip, cheeks, gums and tongue. A mouthguard made specifically for your child using a model of his or her teeth offers greater protection than an over-the-counter model.
Warn your Teens about Oral Piercings. Tongue piercing and lip bolts create many risks for teeth and the tissues that surround them. Resulting tooth problems include chipping, sensitivity, and pain. Periodontal problems include gum recession, inflammation, infection, and bone loss. Make sure that your teen is aware of these risks.
If you would like more information about oral healthcare for your children, please contact us or schedule an appointment for a consultation. You can also learn more by reading the Dear Doctor magazine article "How to Help your Child Develop the Best Habits for Oral Health."