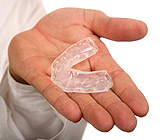 Concussion in athletes is a topic that's getting lots of attention recently — not only in professional leagues, but also at the level of high school, collegiate and amateur sports. Helmets are being increasingly used in both contact and non-contact sports, like skiing and biking. But when you're looking for quality gear that gives you additional protection against head and facial injuries, do you think of getting it at the dental office?
According to some new research, you should. A study published in the journal of the Academy of General Dentistry shows that a custom-made mouthguard, obtained at a dentist's office, is more than twice as effective against mild traumatic brain injures (MTBI) and concussions than the over-the-counter (OTC) mouthguards you can get at a sporting-goods store.
The randomized study followed six different high school football teams, with a total of 412 players. Half were assigned to wear custom-made mouthguards, while the other half used OTC types; all wore the same type of helmets. When the season ended, a total of 24 MBTI/concussion injuries were reported, for an overall rate of 5.8 percent.
But the study revealed that not all mouthguards are created equal: The incidence of concussion for players wearing OTC mouthguards was 8.3 percent, while the group with dentist-provided custom mouthguards had an incidence rate of just 3.6 percent — less than half the rate of the OTC group!
That's a big difference — and there's one more thing to consider: While they can give you additional protection against concussion, mouthguards are primarily designed to protect your teeth from serious injury. It is well established that athletes who wear mouthguards significantly reduce the risk of dental and facial injury. That's why they are recommended by the American Dental Association, and why so many sports leagues and associations require their use at all levels of play.
A custom fabricated mouthguard, made from a model of your own teeth, fits you better than any generic type can; it's also a better investment. The mouthguards we provide last much longer than the "boil-and-bite" or self-molded ones available in sporting-goods stores and big-box retailers. And if it prevents a single serious injury, a custom-made mouthguard can pay for itself many times over — not only in terms of medical bills, but also in time lost from school or work… and on the field, the trail or the slopes.
If you have questions about custom-made athletic mouthguards, please contact us or schedule an appointment for a consultation. You can learn more by reading the Dear Doctor magazine articles "Athletic Mouthguards" and "An Introduction to Sports Injuries & Dentistry."