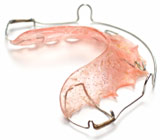 On the day when braces come off, most people feel that their orthodontic treatment is over. When they are then asked to wear retainers, they may wonder what this additional requirement will accomplish. Wasn't the work of moving their teeth to desired positions already completed? To understand the answer to this question, you need to understand how orthodontics works.
How does orthodontic treatment remodel your smile?
Although they give the appearance of being stable and unmoving, teeth and their surrounding structures (gums, jawbones, and ligaments) are living tissues and are actually in a constant state of change.
Teeth are rooted in bone and are attached by a fibrous tissue called the periodontal ligament (from peri meaning around and odont meaning tooth). One side of the ligament attaches to the cementum (part of the tooth's root) and the other side is attached to the bone, with the tooth suspended in between.
These tissues are constantly remodeling themselves, but pressure from the lips and cheeks on one side and from the tongue on the other create a balance that keeps the teeth suspended in the same location. When mild forces are placed on the teeth, such as the forces from the wires used in orthodontic treatment, the tissues slowly adapt and rebuild, resulting in a new position for the teeth.
What are retainers?
Orthodontic retainers are devices usually made of a clear plastic section that is fitted to the roof of the mouth, with thin wires that fit over the teeth.
What is the purpose of retainers?
The remodeling process keeps going after the orthodontic treatment stops, so time is needed for the teeth to reach a new balanced state. The retainer stabilizes them in their new position so that bone and ligament can reform around the teeth and hold them there. This works well for adolescents, whose jaws are in a state of growth, but adults may need outside assistance to stabilize their teeth for a longer time. They may be asked to wear retainers indefinitely to make sure their teeth do not move from their new positions.
What happens if you don't wear your retainers?
If you don't wear your retainers, your teeth are likely to return to the positions they had prior to your orthodontic treatment. This can happen fairly rapidly, underscoring the importance of wearing retainers as instructed.
What are the different types of retainers?
Most retainers are removable devices as described above. For people who require long-term use of retainers, thin retainer wires can be bonded to the inside surfaces of their front teeth. Such wires are usually left in place for several years, relieving them of the need to remove and replace their retainers.
Contact us today to schedule an appointment to discuss your questions about orthodontics and retainers. You can also learn more by reading the Dear Doctor magazine article "Why Orthodontic Retainers?"