Posts for tag: fluoride
By John Kelmenson, D.D.S.
January 07, 2019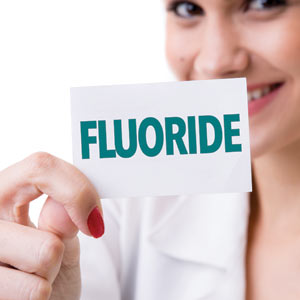 In the battle against tooth decay, fluoride is an important weapon. Since the discovery of its dental health benefits a century ago, fluoride has been credited with saving countless teeth.
But over its history in dental care, this natural-occurring chemical has also had its share of controversy with concerns raised from time to time on potential health dangers. These run the gamut from "conspiracy theory" speculations to credible research like a 2006 National Research Council study that suggested a possible increased risk of bone fracture or cancer from over-consumption of fluoride.
Even so, there is actually little evidence or even record of incidence for such dire consequences. The only definitive health effect from fluoride found after decades of copious research is a condition called fluorosis, a permanent staining effect on the teeth. Fluorosis poses a cosmetic problem but does not harm the health of the teeth.
Moderation in fluoride use seems to be the key to gaining its health benefits while avoiding fluorosis. One influential fluoride researcher, Dr. Steven Levy, estimates 0.05-0.07 milligrams of fluoride per one kilogram of body weight (about a tenth the weight of a grain of salt for every two pounds) is sufficient to gain the optimum dental benefit from fluoride.
The real question then is whether your family's current consumption of fluoride is within this range. That will depend on a number of factors, including whether your local water utility adds fluoride to your drinking water supply and how much. You may also be ingesting fluoride through processed foods, juices and even some bottled waters. And you can encounter fluoride in dental care including toothpastes and clinical treatments.
One way to moderate your family's fluoride intake is to be sure all your family members are using the correct amount of fluoride toothpaste for their age while brushing. Infants need only a slight smear on the end of the brush, while older children can brush adequately with just a pea-sized amount. For other tips and advice, talk to your dentist about your family's fluoride intake and how you might adjust it.
Even with the possibility of fluorosis, fluoride still provides an incredible benefit in preventing tooth decay. By understanding fluoride and keeping your intake within normal ranges you can maximize its benefit for healthier teeth and minimize the fluorosis risk.
If you would like more information on the role of fluoride in dental health, please contact us or schedule an appointment for a consultation. You can also learn more about this topic by reading the Dear Doctor magazine article "Fluoride & Fluoridation in Dentistry."
By John Kelmenson, D.D.S.
March 07, 2013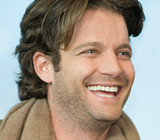 Prior to his first appearance on the Oprah Winfrey show, interior designer Nate Berkus knew immediately that he was not there to pick sofa colors and paint chips. Instead, he was there to lift people up through the way they live. And boy, did he do just that. Over the next eight years, Berkus completed 127 makeovers and became one of America's most beloved go-to guys for inspiration on the latest design trends.
During a recent interview with Dear Doctor magazine, Nate discussed his career as well as his oral healthcare. He credits his dazzling all-natural smile — no cosmetic dentistry here — to the treatments he received as a child from his dentist. "I'm grateful for having been given fluoride treatments and sealants as a child." He then added that, "healthy habits should start at a young age." Nate is still in the habit of brushing his teeth two or three times a day. As for flossing his teeth, he credits his dentist with the advice he still follows: "Floss the ones you want to keep."
Many parents and caregivers may not be aware of the important role fluoride treatments play in protecting children's teeth. Fluoride has the unique ability to strengthen tooth enamel, the hardest substance found in nature. Depending on where you live, you may have fluoridated tap water. You may also have fluoride in your toothpaste, depending on the brand you use. Both of these are beneficial, but sometimes we recommend additional fluoride treatments based on the specific needs of your children. Why? The concentrations of the topical fluorides we typically apply are much higher than what is found in toothpastes, and we apply them for a longer period of time. For example, we often apply them for four minutes per treatment session.
To learn more about fluoride treatments, contact us today to schedule an appointment so that we can conduct a thorough examination, discuss any questions you have as well as what treatment options will be best for you or your child. Or to learn more about fluoride treatments now, you can continue reading the Dear Doctor magazine article "Topical Fluoride." And to read the entire interview with Nate Berkus, please see the Dear Doctor magazine article "Nate Berkus."
By John Kelmenson, D.D.S.
December 29, 2012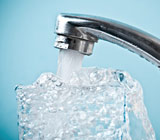 The CDC (Centers for Disease Control and Prevention) calls fluoridation of drinking water one of the ten most important public health measures of the 20th century, along with such measures as vaccination and motor-vehicle safety.
A fluoride concentration of about one milligram per liter (1 mg/L), or 1 part per million (1ppm), in the water supply is associated with substantially fewer cavities. This concentration of fluoride (equivalent to a grain of salt in a gallon of water) has been found to have no negative health effects.
The connection between fluoride and oral health was confirmed in the first half of the 20th century, and by 1955 the first clinically proven fluoride toothpaste was launched. Fluoride-containing toothpastes are common today, along with other fluoride-containing products.
Protective Effects of Fluoride
Ongoing studies have shown that fluoride has both a systemic (through the body) effect and a local effect at the tooth surfaces. Tooth decay takes place as part of a kind of active war between de-mineralization and re-mineralization, in which acids produced by bacteria in plaque (a biofilm in your mouth) soften and dissolve the minerals (de-mineralization) in the tooth's surface. At the same time, the saliva bathing the tooth acts to re-harden the tooth's surface by adding minerals back (re-mineralization). If fluoride is present in the biofilm and in the saliva, it protects against de-mineralization.
The fluoride you drink in your water is deposited in your bones. Bone is an active living substance that is constantly broken down and rebuilt as a normal body process. As this happens the fluoride is released into the blood, from which it can enter the saliva and act on the tooth surface. The fluoride in toothpastes and products like rinses is delivered directly to the tooth surface. Fluorides can also be eaten in foods with high fluoride content such as teas, dry infant cereals and processed chicken, fish and seafood products.
Problems with Over-use
Eating or swallowing too much fluoride can contribute to a discoloration of teeth called dental fluorosis, which varies in appearance from small white striations to stained pitting and severe brown mottling of the enamel. To avoid this effect, monitor children's tooth brushing to make sure they use only a small amount of fluoride toothpaste and do not swallow it.
Adding fluoride to water has been controversial because some people believe that it may cause other harmful effects. However, most health experts believe that fluoridated water carries no significant health risks and significantly contributes to public health by preventing tooth decay.
Contact us today to schedule an appointment to discuss your questions about fluoride. You can also learn more by reading the Dear Doctor magazine article "Fluoride & Fluoridation in Dentistry."