Posts for tag: toothpaste
By John Kelmenson, D.D.S.
November 18, 2021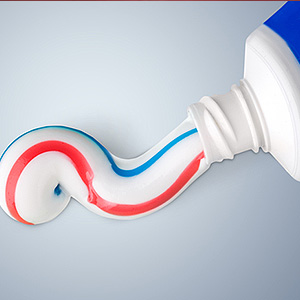 We're all interested in how our toothpaste tastes, how it freshens breath or how it brightens teeth. But those are secondary to its most important function, which is how well our toothpaste helps us remove dental plaque, that thin bacterial film on teeth most responsible for both tooth decay and gum disease.
Daily brushing and flossing clear away dental plaque, resulting in a much lower risk for dental disease. But while the mechanical action of brushing loosens plaque, toothpaste helps complete its removal. It can do this because of two basic ingredients found in nearly every brand of toothpaste.
The first is an abrasive (or polishing agent), a gritty substance that boosts the effectiveness of the brushing action (which, by the way, alleviates the need for harmful aggressive brushing). These substances, usually hydrated silica, hydrated alumina or calcium carbonate, are abrasive enough to loosen plaque, but not enough to damage tooth enamel.
The other ingredient, a detergent, works much the same way as the product you use to wash greasy dishes—it breaks down the parts of plaque that water can't dissolve. The most common, sodium lauryl sulfate, a safe detergent found in other hygiene products, loosens and dissolves plaque so that it can be easily rinsed away.
You'll also find other ingredients to some degree in toothpaste: flavorings, of course, that go a long way toward making the brushing experience more pleasant; humectants to help toothpaste retain moisture; and binders to hold bind all the ingredients together. And many toothpastes also contain fluoride, a naturally-occurring chemical that strengthens tooth enamel.
You may also find additional ingredients in toothpastes that specialize in certain functions like reducing tartar buildup (hardened plaque), easing tooth or gum sensitivity or controlling bacterial growth. Many toothpastes also include whiteners to promote a brighter smile. Your dentist can advise you on what to look for in a toothpaste to meet a specific need.
But your first priority should always be how well your toothpaste helps you keep your teeth and gums healthy. Knowing what's in it can help you choose your toothpaste more wisely.
If you would like more information on oral hygiene products and aids, please contact us or schedule an appointment for a consultation. You can also learn more about this topic by reading the Dear Doctor magazine article "Toothpaste: What's in It?"
By John Kelmenson, D.D.S.
September 03, 2017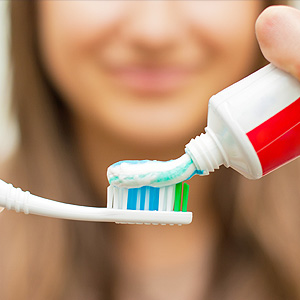 Confused about which toothpaste to buy? You're not alone — we're all regularly confronted with multiple choices when we shop.
But you can simplify your decision-making process by first remembering that toothpaste has one main objective: helping to break down and remove dental plaque when you brush. Plaque is a thin film of bacteria and food particles that if you don't remove through brushing and flossing could trigger tooth decay or periodontal (gum) disease.
Toothpastes contain abrasives and detergents to help make this possible. Abrasives like hydrated silica are gritty substances that work with the mechanical brushing action to loosen plaque. Detergents (usually sodium lauryl sulfate) help loosen and break down particles on your teeth that won't otherwise dissolve with water alone. The combination of these ingredients and daily brushing action enables you to remove a substantial portion of plaque from your teeth every day.
These ingredients (along with others to retain moisture and bind everything together) are the foundation of any toothpaste. There are other additives, however, that you may also want to consider. The most important is fluoride, a naturally-occurring chemical proven to strengthen enamel against tooth decay. If you're interested in a brighter smile, you can also look for bleaching agents that may help whiten some enamel staining. And, of course, there are various flavors to suit your taste.
You'll also want to pay attention to ingredients if you have special concerns. If you have sensitive teeth, your dentist may recommend particular brands that help reduce discomfort. You'll also want to be on the lookout for ingredients that you may be allergic to like the aforementioned sodium lauryl sulfate or flavors like cinnamon. Be sure to read the ingredients label if you have known issues with certain substances.
And while you're reading the packaging look for one more thing — the American Dental Association Seal of Approval. This seal means any manufacturer claims for lower occurrences of cavities or other effects by that toothpaste have been independently verified.
It can be overwhelming amid all the product messaging to decide which toothpaste is right for you. But by knowing these basic facts about toothpaste, you can feel more confident choosing the right one to help keep your teeth and gums clean and healthy.
If you would like more information on oral hygiene products, please contact us or schedule an appointment for a consultation. You can also learn more about this topic by reading the Dear Doctor magazine article "Toothpaste: What's in it?"
By John Kelmenson, D.D.S.
October 03, 2013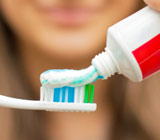 Since the time of the ancient Egyptians, people have used mixtures of various substances in pursuit of a single goal: cleaning their teeth effectively. Today, even with a glut of toothpaste tubes on the supermarket shelf, most people seem to have a particular favorite. But have you ever thought about what's in your toothpaste, and how it works? Here are five facts you might not know.
1) Most toothpastes have a very similar set of active ingredients.
Once upon a time, a toothpaste might have contained crushed bones and oyster shells, pumice, or bark. Now, thankfully, they're a little different: today's toothpaste ingredients generally include abrasives, detergents and fluoride compounds, as well as inert substances like preservatives and binders. Toothpastes formulated to address special needs, like sensitive teeth or tartar prevention, have additional active ingredients.
2) Abrasives make the mechanical action of brushing more effective
These substances help remove stains and surface deposits from teeth. But don't even think about breaking out the sandpaper! Modern toothpastes use far gentler cleaning and polishing agents, like hydrated silica or alumina, calcium carbonate or dicalcium phosphate. These compounds are specially formulated to be effective without damaging tooth enamel.
3) Detergents help break up and wash away stains
The most common detergent in toothpaste (which is also found in many shampoos) is sodium lauryl sulfate, a substance that can be derived from coconut or palm kernel oil. Like the abrasives used in toothpaste, these detergents are far milder than the ones you use in the washing machine. Yet they're effective at loosening the stains clinging to your teeth, which would otherwise be hard to dissolve.
4) Fluoride helps prevent tooth decay
This has been conclusively demonstrated since it was first introduced into toothpaste formulations in 1914. Fluoride — whether it's in the form of sodium fluoride, stannous fluoride or sodium monofluorophosphate (MFP) — helps strengthen tooth enamel and make it more resistant to acid attack, which precipitates tooth decay. In fact, it's arguably the most important ingredient, and no toothpaste can receive the American Dental Association's Seal of Approval without it.
5) Look for toothpaste with the ADA seal
This means that the particular brand of toothpaste has proven effective as a cleaning agent and a preventative against tooth decay. Plus, if the package says it has other benefits, then research has verified that it does what it says. Oh, and one other thing — toothpaste doesn't work if you don't use it — so don't forget to brush regularly!
If you have questions about toothpastes or oral hygiene, please contact us or schedule an appointment for a consultation. You can learn more in the Dear Doctor magazine article "Toothpaste — What's In It?"