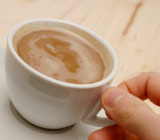 Do your teeth stain easily? Are you worried that your new white fillings won't remain white for very long? Staining generally falls into one of two categories — extrinsic (external) staining, which affects the outside of the teeth, and intrinsic (internal) staining, which is discoloration of the tooth structure itself. The good news is that both can be treated and, once we determine the exact cause, there are a number of options to remedy it. You can have whiter teeth in almost no time!
External staining is generally caused by beverages or foods like red wine, tea, coffee and some spices, or even substances like tobacco. Stain that is brown, black or gray can become even worse in the presence of dental bacterial plaque and when the mouth is dry. On the other hand, internal tooth staining can make the teeth appear more yellow as a natural result of aging, or after root canal treatment when tooth structure can become more brittle and dry.
Treatment for external (extrinsic) staining includes:
Lifestyle modification: You can help put a stop to your staining problem by reducing or eliminating the habits that cause it, such as smoking and drinking red wine.
Practicing efficient oral hygiene: Preventing extrinsic staining can be as simple as brushing twice a day with toothpaste that contains tooth-whitening agents or other solutions to reduce the appearance of stains. Don't be embarrassed to ask our office about brushing and flossing because most people do it wrong until they're properly instructed.
Professional Cleaning: We can remove some extrinsic staining with ultrasonic cleaning followed by polishing with an abrasive prophylactic paste.
Other treatment options to reverse either intrinsic or extrinsic staining include:
Whitening by bleaching: Bleaching for extrinsic stains can be performed either in our office or at your home using a whitening kit. Bleaching for internal (intrinsic) stains can only be conducted in our dental office because it typically involves bleaching the tooth or teeth from the inside.
Fillings and restorations: For teeth that have been stained due to decay, or for fillings that are old and discolored we can remove the decay and restore the teeth, which will restore them to their natural brighter color.
If you are ready to say goodbye to your stained teeth, call our office today to make an appointment. For more information about treating stained teeth, read the Dear Doctor magazine article "Tooth Staining: Getting To The Cause Of Tooth Discoloration Is The First Step Toward Successful Treatment."